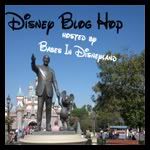 Welcome Disney Blog Hoppers and other readers!!  Today's theme from Babes in Disneyland is pirates, in honor of Pirates of the Caribbean: On Stranger Tides opening tomorrow.  For a while, Mr. MouseEars was missing a tooth in the front of his mouth.  He also sports a British accent.  We took to calling him a pirate.  He has a good sense of humor, so he worked it.  Then, the Pirates of the Carribean movies started coming out.  Everyone loved the movies and the pirates!  Strangers thought my husband's missing tooth was trendy and it became quite the conversation starter.  Alas, he completed his dental work and my pirate obsession became more focused on the films. 
In 2008, during our annual trip to Walt Disney World, this "Disney Loving Pirate Obsessed" Mom booked tickets to The Pirate/Princess Party at the Magic Kingdom!  Sadly, this party is no more but join me as I set sail down memory lane…
First, never take pirates to dinner or they may behave like this:
This was at Narcoossee's.  Loved it!
The Pirate and Princess Party was a separately ticketed event inside the Magic Kingdom and was packed with atmosphere. From the moment you stepped towards the entrance, the signs, the lights and the music all set the scene!
As you can also see, Princesses do not always behave for pictures, either.
Walking through the underpass into the Magic Kingdom there was tons of "piratey" fog.  At this point, I think we picked up our party guides and pirate maps detailing the special character meet and greets, activities, parade times, fireworks and more.
The mood inside was festive and the crowds were very manageable. The majority of the attractions were open (sorry, I can't exactly remember which but I think a couple were shut).  Obviously, there was a lot of activity in and around the Pirates of the Caribbean ride including a Pirate Tutorial and character meet and greets.  Lots of kids and adults were in the Pirate/Princess spirit, wearing terrific costumes!

 The parade was great!  (Though now having been to Mickey's Not-So-Scary Halloween Party, I'd say that parade is absolutely #1).  The show on the castle stage was themed and entertaining. 
At some point in the evening we received some little goodie bags to take home, too. This special night was a bit pricey but well worth it for budding buccaneers and pretty princesses. If they ever resurrect it from the deep, it may well be worth climbing aboard!  Now head on off and see the new movie!  But before you go…be sure to brush up on your pirate speak with this pirate talk generator.
Goodbye fer now!
Mwah,
 The Mrs.
All opinions expressed on this website, photos and videos come straight from Bettina unless otherwise noted. This post has a Compensation Level of 0. Please see Bettina's Disclosure page for more information.