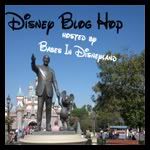 Welcome Disney Blog Hop readers and thanks again to Babes in Disneyland for hosting and providing our theme :  Disney Firsts!  My "Disney First" is about how we created a MouseEars family tradition.  Actually, I'll never be able to personally thank those folks who inspired these antics.  We only knew them from a distance.  But if they happen to recognize themselves in this post…I thank you now for all the laughs 🙂
Four years ago, my family was staying at Disney's Wilderness Lodge  at Walt Disney World.  We were very excited because my mom (who had not been to WDW since the 1970's) decided to join us.  Since we needed some extra space we opted to stay in a Junior Suite which included a wonderful patio/balcony.  Our room happened to be on the ground floor overlooking the sandy beach on Bay Lake. (No, there is no swimming in the lake unless you enjoy developing bacterial infections or pretending you're alligator bait!)
One night, we happened to be in the room when we heard the familiar sounds of the approaching Electrical Water Pageant also known as "The Boat Parade".  If you've ever stayed in any of the resorts surrounding the lake, you know how you learn to recognize the music.  And if you're part of the MouseEars family it means, dropping what you're doing and racing to your best viewing spot!  The Boat Parade to us is a Disney classic.  Beautiful music and simple light displays dancing on the water.  The displays are actually attached to small barges which glide into position and then begin their performance.  On this particular night, we realized we had a perfect view from our own room 🙂  It was awesome.  All of a sudden, a bunch of twenty-something-year-olds came racing to the beach, well within our view.  As the first notes of the Boat Parade began…they began dancing!  Not just any dancing.  An actual "routine"!  It was perfectly choreographed to each segment of the music and it was laugh out loud funny!!!  When the music stopped, they quickly ran off. 
Needless to say, this inspired the entire MouseEars bunch to try it on their own the following night.  Grandma included.  It was a hit and a tradition was born.  Since then, we've "performed" at various locations around the lake…including The Grand Floridian and the Polynesian Resort.  Maybe you've caught our act and were one of those who decided to join in?!  Here's a pic of myself and DD workin' it on the Poly Beach:
Luckily, Mr. MouseEars had to put away the camera to join in for the big finale!
Mwah,
The Mrs.
P.S.  Here's a YouTube video someone else shot and posted of the Electrical Water Pageant (no, not of the MouseEars Family dancing) – so you can start practicing your own showstopping routine at home!
[youtube]http://www.youtube.com/watch?v=bkgTW73I-lQ[/youtube]
 All opinions expressed on this website, photos and videos come straight from Bettina unless otherwise noted. This post has a Compensation Level of 0. Please see Bettina's Disclosure page for more information.