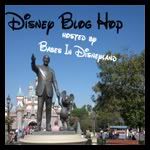 Welcome Disney Blog Hoppers and thanks to Babes in Disneyland for another thought provoking topic: Why do we love Disney?? And what an appropriate topic for me today since I am enroute to my happy place…Walt Disney World!! I love Disney in all shapes and forms from theme parks, to movies, to gear, etc.
For this moment though, I'm going to focus on Walt Disney World. I love it because every time I step through the gate, I can feel the magic, taste the magic…be the magic. I can leave the ups and downs of life behind and focus on my children, my husband, myself. I can pretend, laugh out loud, cry with joy, sing and dance…all in the name of the mouse! So why do I love Disney? I. just. do.
So keep an eye on the blog for me. I promise I will see you all real soon 🙂
Mwah,
The Mrs.
All opinions expressed on this website, photos and videos come straight from Bettina unless otherwise noted. This post has a Compensation Level of 0.  Please see Bettina's Disclosure page for more information.