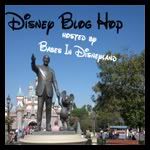 Welcome Disney Blog Hoppers and yet again, another great topic today provided by our friends at Babes in Disneyland: Inspiration! What is it that inspires me to blog? The desperate need for "me" time! A writer by nature, I really missed not having an outlet for my written thoughts. Once I start writing, I go into a "zone". Not always the best when the dogs are barking, kids are arguing and the mailman is knocking on the door! Though if I get the chance to write late at night….it's mmmmm mmmmm good 🙂 But then again, so is sleep. Aaah well, you can't have everything!!
Still visiting my happy place right now. Tune in soon for loads of pics and reports from my latest trip to the one and only, Walt Disney World!
Mwah,
The Mrs.
All opinions expressed on this website, photos and videos come straight from Bettina unless otherwise noted. This post has a Compensation Level of 0.  Please see Bettina's Disclosure page for more information.